Embezzlement
What is Embezzlement?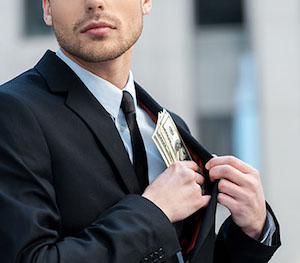 If you or a loved one is accused of embezzlement, there are probably many questions going through your mind regarding the charges and possible penalties. Embezzlement is a type of fraud involving theft of finances. It could be committed by an employer or an employee, anyone who was in a place of trust and had access to confidential information and funds. An employer could lie about how much their business is worth and use money from investors for their own personal use. A trustee could embezzle funds from a trust account that they were supposed to oversee. An employee could steal systematically from their employer by changing bills and receipts.
According to § 14-90 of North Carolina law, embezzlement is knowingly and intentionally misusing money that was entrusted to you. Under this statute if the value of what was taken was above $100,000, the charge will be a Class C felony. If the value was less than $100,000, it will be charged as a Class H felony. The difference between those two classes of felonies is significant. A class H felony does not require an active prison sentence, whereas a Class C will require an active sentence and it will be a significant sentence at that.
If you are worried about being charged with this crime or have been charged with this crime, please consult a criminal defense attorney in your area. Often we see defendants who confess to their employers or to the police and it puts them at a significant disadvantage while handling their case. The more the State has to prove, the more control over the case the defense attorney will have. If you or a family member can see charges coming or an employer has brought up the issue, do not talk to them, consult an attorney who handles these types of cases.
Our office has handled many embezzlement cases and we understand how to defend them. If you are facing these serious charges, you should contact a member of our legal team as soon as possible. The Olsinski Law Firm, PLLC is dedicated to serving clients throughout Charlotte and the surrounding areas. Each Charlotte criminal defense attorney or Concord defense attorney from our team has years of experience in defending the accused, in drug crimes, DWI, property crimes, sex crimes, theft crimes, and more. We understand how difficult this time can be and so are there to walk with you throughout the entire process. We dedicate ourselves to the litigation of these types of charges, give us a call today, the consultation is free and there is no obligation.
Contact a Charlotte embezzlement lawyer or Concord embezzlement attorney from our team for a free consultation*. Learn how we could fight to defend you.