Drug Trafficking
Were You Arrested for Trafficking? Conspiracy to Traffic Drugs?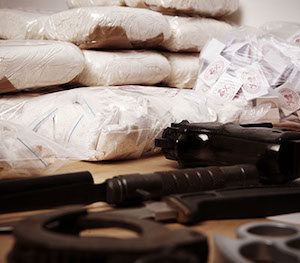 These charges are extremely serious in North Carolina. If you have been charged with a trafficking offense you need to consult with a criminal defense lawyer as soon as possible. In some circumstances you could be looking at 10 or more years in prison. Trafficking statutes are intended to put you behind bars and prosecutors have the same intention. Trafficking charges need to be fought hard and you need aggressive representation. We focus on uncovering and presenting you with every option available to defend your case. Once we come up with a strategy we will work diligently to make sure we fight the issues and put you in the best position possible. Punishments can be quite severe for trafficking charges which is why you need a Charlotte criminal defense lawyer or a Concord criminal defense attorney who is passionate about criminal law and highly motivated to help you protect your rights and your future.
Law enforcement officers may conduct a drug crime investigation for weeks or months before making an arrest. It is often a situation where the officers are aware of a location where drug activity takes place. The officers will usually gather information and then wait for transactions to take place, whether to an undercover cop or within the view of detectives. The police have procedural standards that need to be followed to stop, arrest and question citizens. As defense attorneys we focus on making sure the police follow these procedures in their entirety. If there is a procedural misstep, we will find it and use it to our advantage. In your defense a skilled defense lawyer will carefully examine the actions of the officers and prosecutors and their handling of your case to identify reasons to challenge the admissibility of the prosecution's evidence to get charges against you reduced or dropped altogether.
Come in and meet one of our defense attorneys, your initial consultation is free. During this consultation, your criminal defense lawyer at our firm will listen carefully to your description of the events and your concerns to begin constructing the best defense strategy for your circumstances. Call The Olsinski Law Firm, PLLC for the dedicated representation that you deserve during your free initial consultation and throughout your entire case.
If you are facing trafficking charges contact Charlotte criminal defense lawyer or a Concord criminal defense attorney at our firm for insightful assistance and aggressive defense.