Slip and Fall Accidents
Slip and Fall on Someone Else's Property due to Lack of Reasonable Care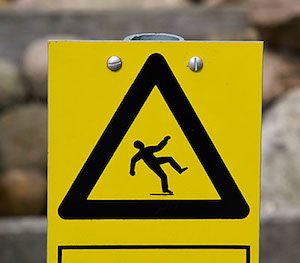 A slip, trip or fall accident can result in serious injuries such as back injuries, spinal cord damage, leg injuries, knee injuries, wrist injuries and broken bones. You may be unable to work for many months and face extreme financial hardship due to your loss of income. If you were in this type of accident and it occurred on someone else's property, you might be eligible for compensation to cover medical and other related expenses. A personal injury lawyer can give you reliable advice regarding how best to pursue a claim. Hiring a skilled lawyer can help prevent delays and denials, and it can also enable you to focus on what is most important- your recovery.
Potential Losses
The compensation you are entitled to can cover many different types of expenses and losses, including:
Hospitalization
Medical bills
Lost current and future wages
Pain, suffering and emotional trauma
Rehabilitation
Home care
Property owners are required by law to ensure their premises are well-maintained. This includes providing adequate lighting, keeping pathways and stairs cleared of debris, properly storing equipment and supplies, and fixing cracks and holes in sidewalks. Any potential hazards must also be properly marked.
What We can do for You
The Olsinski Law Firm, PLLC is a law firm that has the knowledge and experience that will help when seeking monetary damages for your injury. We will review your accident and hold the responsible parties accountable for their negligence. Our personal injury attorneys are tough negotiators who will vigorously protect your rights and fight for the financial compensation you deserve. Take action now by contacting our firm so we can determine the best course of action for your case.