Slip and Fall Accidents
Experienced North Carolina Premises Liability Lawyers Serving Clients in Charlotte, Concord, and Throughout North Carolina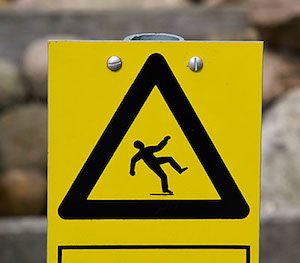 Slip and fall accidents are one of the most common types of personal injury and premises liability claims in North Carolina. These events can happen virtually anywhere, including shopping centers, government buildings, schools, parks, and parking lots. While some people may only experience minor injuries from these incidents, many suffer serious injuries requiring months of recovery.
At the Olsinski Law Firm, PLLC, we diligently represent slip and fall accident victims, helping them collect monetary compensation for their injuries and damages. We are immediately available to meet with you to answer your questions, explain the recovery process, and start working on your case.
Establishing Property Owner Negligence After a Slip and Fall
Property and landowners have a general legal duty to ensure their property is safe and free from unreasonable harm to the public, guests, and lawful visitors. However, a property owner's specific duty and responsibility depend on their status, the classification of the person who suffered injuries, and the type of accident that occurred.
Most slip and fall injuries stem from negligence in some form. Some common forms of neglect that result in a slip and fall include the owner's failure to:
Inspect their property;
Remediate potential hazards and unsafe conditions;
Post warnings regarding potential defective or unsafe conditions; and
Provide adequate security and management of their property.
Generally, property owners may be liable if they knew or should have reasonably known that there was a dangerous condition on their property that could result in a slip and fall. On the other hand, property owners may not be liable in certain situations, or they may purport defenses to avoid paying out damages. An experienced North Carolina slip and fall attorney can help injury victims understand their rights and effectuate their remedies.
Common Causes of Concord Slip and Fall Accidents
Slip and falls and trip and falls can occur in various situations; however, a significant number of slip and falls stem from:
Broken steps,
Loose tiles,
Torn carpeting,
Slippery surfaces,
Chipped curbs, and
Icy parking lots and sidewalks.
Essentially any defective condition or hazard that causes a person to slip or trip and suffer injuries may result in liability for the business or homeowner. An attorney can help injury victims navigate insurance claims and personal injury lawsuits stemming from these incidents.
Injuries After a North Carolina Slip and Fall
Slip and fall accidents often result in serious injuries and can have a long-lasting impact on a person's physical and psychological health. Trip and falls can cause:
Further, in some cases, the full extent of a slip and fall injuries may not be clear until much later. Accordingly, it is important that individuals seek medical treatment and consult with an attorney as soon as possible after an accident.
Recoverable Damages after a Slip and Fall Accident
The extent and type of damages available after a slip and fall accident can vary. However, most commonly, injury victims can seek damages for their medical expenses, rehabilitation treatment, lost income, emotional distress, pain and suffering, and property damage. An experienced North Carolina slip and fall attorney can help claimants recover the maximum amount of compensation available.
Contact the Slip and Fall Lawyers at the Olsinski Law Firm, PLLC for help with Your Claim
The Olsinski Law Firm, PLLC, has the knowledge and experience that will help when seeking monetary damages for your injury. Our personal injury attorneys are tough negotiators who will vigorously protect your rights and fight for the financial compensation you deserve. However, as experienced litigators, we will not hesitate to take your case to trial if the insurance company doesn't extend a fair settlement offer. To learn more, and to schedule a free consultation with a Charlotte personal injury lawyer, give us a call at 704-405-2580. You can also reach one of our Concord bike accident lawyers at 704-918-4747. We take all personal injury cases on a contingency basis, meaning we will not bill you for our services unless we can connect you with compensation for what you've been through.