Truck Accidents
Concord and Charlotte Attorneys for Big Rig Crash Victims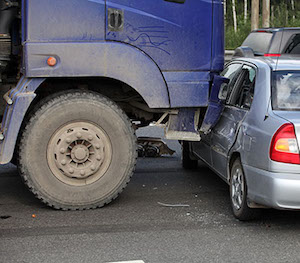 Due to their massive size, trucks may cause some of the most serious accidents on the road. As a result of these serious dangers, trucking is a heavily regulated industry, with both federal and state agencies enacting a number of rules that govern everything from the certifications that drivers must earn to operate these large vehicles to the frequency at which they must be investigated for any equipment or other maintenance issues. At the Olsinski Law Firm, our personal injury lawyers have provided seasoned and personalized legal counsel to victims throughout North Carolina. When you are seeking the settlement or the judgment that you deserve, a Concord or Charlotte truck accident lawyer may be critical in navigating through any complexities that may arise.
Hold a Careless Truck Driver or Company Responsible for Your Damages
When it comes to a truck accident, there are multiple parties that may be liable for your damages. First, truck drivers and trucking companies owe motorists and pedestrians a duty to act with a certain level of care when it comes to operating and maintaining trucks. Truck drivers have a duty to operate their trucks with the same level of reasonable care and skill that a prudent truck driver would employ, including obtaining training certifications and refraining from operating these large vehicles while under the influence of alcohol or drugs. Under North Carolina law, drivers who operate commercial vehicles with a blood alcohol content of 0.04% or greater are guilty of driving while intoxicated. Also, under the vicarious liability doctrine, employers are liable for the careless acts that their employees commit during the course and scope of employment.
Trucking companies have their own duty of care in addition to this vicarious liability, which requires them to comply with all federal and state regulations and to perform thorough evaluations of truck drivers before entrusting them with these massive vehicles. If a plaintiff can show that the defendant failed to use due care when hiring a driver, the plaintiff may be able to bring a negligent hiring action against the defendant. A common example of negligent hiring in the trucking context would be failing to verify whether a driver has a history of speeding, drunk driving, or other red flags in their driving record. Our truck accident attorneys can help Charlotte and Concord residents thoroughly investigate a case to determine whether any violations may have occurred.
Finally, if the accident occurred as a result of a malfunction with the truck's equipment, the plaintiff may bring a product liability claim against the manufacturer.
Regardless of the type of claim that you bring, you will need to show that the defendant's actions were the cause of the injuries that you sustained. North Carolina uses a pure contributory negligence rule, which means that a plaintiff will be barred from recovering damages if the defendant can show that the plaintiff was even one percent at fault for their injuries. This is just one of many reasons why it is critical to seek legal guidance in these situations.
Finally, the last phase of the lawsuit will involve substantiating the damages that the plaintiff is seeking. Some of the most common categories of damages that plaintiffs seek following a truck accident include medical bills, medications, ambulance fees, and compensation for future medical care. A plaintiff may also seek compensation for any missed wages and diminished earning capacity. An experienced personal injury lawyer can assist you with identifying each and every item of damages that you may be able to recover in the lawsuit so that you assert your right to every dollar that you deserve.
Contact an Experienced Truck Accident Lawyer in Charlotte or Concord
If you or someone you love has been involved in a truck accident, the confident motor vehicle collision lawyers at the Olsinski Law Firm are ready to assist your family and you. We have provided legal counsel to victims throughout Mecklenburg and Cabarrus Counties, including in Huntersville, Matthews, Mint Hill, Cornelius, Davidson, Pineville, Kannapolis, Harrisburg, Midland, and Mount Pleasant. We offer a free consultation* to help you learn about your options. Contact our Concord and Charlotte truck accident attorneys online or call us in Charlotte at 704-405-2580 or in Concord at 704-918-4747.