Pedestrian Accidents
Experienced Attorneys Assisting Injured Residents of Concord and Charlotte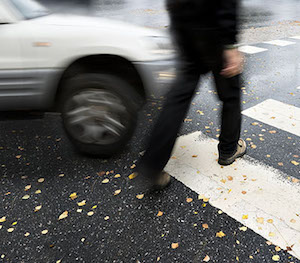 When a vehicle strikes a pedestrian, the outcome can be devastating. Even at low speeds, car accidents involving pedestrians can leave victims with painful injuries that can require substantial recovery periods. In catastrophic scenarios, the victim faces a lifetime of permanent injuries and disabilities. At the Olsinski Law Firm, our Concord and Charlotte pedestrian accident lawyers have represented victims of pedestrian accidents and their families in settlement negotiations and lawsuits seeking to recover the compensation that they need and deserve. Navigating the legal system and determining a strategic way to assert your right to compensation can be difficult, especially when you are dealing with serious injuries and disruptions in your life. Time may be running out on your claim, so contact us as soon as possible.
Asserting Your Right to Compensation Against a Careless Driver
If you are struck by a vehicle as a pedestrian, you can bring a personal injury action against the person who was driving the vehicle that struck you. In the lawsuit, you will need to show that the other driver did not use the appropriate level of care and skill behind the wheel that is required of car and truck drivers in general. This standard is modeled after the way that a reasonable and prudent driver would act when facing a comparable situation. Some common examples of appropriate care while driving include keeping your eyes on the road, refraining from distracted driving practices like texting, and obeying all traffic laws, including yielding the right-of-way to pedestrians. North Carolina has a ban against texting while driving. If you can show that the defendant was texting at the time that he or she crashed into you, or that he or she violated any other traffic law at the time of the crash, a pedestrian accident attorney in Charlotte or Concord can invoke a rebuttable presumption that the defendant was negligent. This is known as the negligence per se doctrine.
One of the simplest ways to determine whether the defendant violated a traffic law is by requesting a copy of any police reports that were prepared at the time of the crash, or by identifying any witnesses who may have seen the defendant run a red light or fail to yield the right-of-way. According to North Carolina law, pedestrians have the right-of-way when crossing in an intersection with a green signal and the right-of-way in marked crosswalks without traffic signals.
After proving that the defendant did not use appropriate care and skill behind the wheel, you must prove that there was a connection between this failure and the injuries that you suffered. If the defendant can show that you were also negligent at the time of the accident, you will be barred from recovering any compensation. North Carolina has adopted the pure contributory negligence approach to personal injury cases, which bars a plaintiff from receiving compensation if he or she was negligent to any extent at the time of the crash. As a result, it is critical to have a seasoned Concord or Charlotte pedestrian accident attorney on your side to help ensure that you establish causation against the defendant.
In the last phase of the lawsuit, you will be required to provide documentation supporting the amount of damages that you have claimed in the lawsuit. Many pedestrians who are injured by motorists have massive medical bills and will require ongoing medical care well into the future. You can also claim compensation for any missed wages, as well as any reduced earning capacity. If the victim of the pedestrian accident loses his or her life as a result of the crash, a wrongful death lawsuit can be brought on his or her behalf to recover compensation for funeral and burial expenses, as well as compensation for his or her surviving heirs' pain and suffering.
Speak with a Compassionate Pedestrian Accident Lawyer in Charlotte or Concord
Pedestrian accidents are among the most challenging situations that North Carolina residents can face, particularly when children are involved. If a careless driver struck your child or you, the experienced personal injury lawyers at the Olsinski Law Firm are ready to help you. We have assisted clients throughout Mecklenburg and Cabarrus Counties, including in Huntersville, Matthews, Mint Hill, Cornelius, Davidson, Pineville, Kannapolis, Harrisburg, Midland, and Mount Pleasant. To schedule your free consultation*, call us in Charlotte at 704-405-2580 or in Concord at 704-918-4747.