Drunk Driving Accidents
Aggressive Charlotte Car Accident Lawyers Helping DUI Accident Victims Seek Justice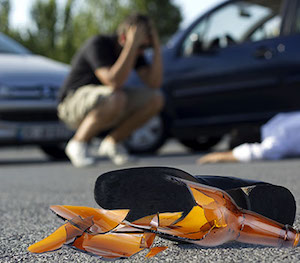 A person who gets behind the wheel of a car and drives while under the influence of alcohol or drugs places every person with whom they come in contact at risk. Drunk driving accidents are unlike almost every other type of car accident because every single one is entirely preventable. Yet, despite the known dangers of driving drunk, thousands of people are injured or lose their lives each year in these tragic accidents. If you lost a loved one or were injured in a car accident that was caused by a drunk driver, now is the time to contact one of the Charlotte or Concord personal injury attorneys at the Olsinski Law Firm, PLLC, to find out how you can seek justice and hold the driver accountable for his or her reckless actions.
How Common Is Drunk Driving?
Drunk driving is very common. In fact, according to the Centers for Disease Control and Prevention, about one out of every three fatal traffic accidents involved a drunk driver. For example, between the years 2003 and 2012, there were more than 4,100 people killed in DUI accidents.
In North Carolina, drunk driving is slightly less common than in other parts of the county; however, there are still approximately 320 fatalities each year related to drunk driving. Roughly 70 percent of these fatal accidents are caused by a driver with a blood-alcohol content of .15, which is just under twice the legal limit of .08.
Injuries Following a Drunk Driving Accident
Drunk driving accidents tend to result in more serious injuries and more fatalities than other types of accidents. One reason for this is that DUI accidents often involve high speeds and direct impacts. For example, a drunk driver is more likely to drift out of their lane and collide head-on with an approaching motorist. Impaired drivers are also more commonly involved in pedestrian accidents, as the fact that they are intoxicated prevents them from noticing people crossing the street or getting out of their cars.
Of course, not all drunk driving accidents are fatal; in fact, most aren't. However, even those who are "lucky" enough to survive a DUI accident often end up with severe injuries, including:
Broken bones,
Spinal cord injuries,
Soft tissue damage,
Facial injuries,
Neck injuries, and
Back injuries.
Regardless of the injuries you suffered, an experienced personal injury attorney can help you bring a case against the at-fault driver in hopes of securing the compensation you deserve.
Recovering After a Drunk Driving Accident
When a drunk driver gets behind the wheel, they risk the lives of everyone on the road. Under state laws, an intoxicated driver that caused an accident can be held accountable for any damages. Our firm will investigate the incident and prepare a comprehensive claim seeking the financial assistance you deserve. We will manage all aspects of your claim so you can stay focused on your recovery. If a loved one was fatally injured in a drunk driving accident, we will aggressively pursue wrongful death compensation, such as payment for the loss of companionship and loss of income. Don't hesitate to contact us and speak to one of our drunk driving accident attorneys for a free consultation*. When you do, we will be able to discuss your case with you, as well as the laws pertaining to your possible personal injury claim.
Were You Injured in a North Carolina Drunk Driving Accident?
If you or a loved one was recently injured in a drunk driving accident, contact the Olsinski Law Firm, PLLC, to schedule a free consultation. We are prepared to meet with you right away to discuss your accident, your injuries, and how we can help you pursue justice from the drunk driver that struck you. Our lawyers are compassionate advocates who care deeply about our clients' well-being and cater our representation to the individual needs of every person we serve. To learn more, and to schedule a free consultation with a Charlotte personal injury lawyer, give us a call at 704-405-2580. You can also reach one of our Concord DUI accident lawyers at 704-918-4747. We take all personal injury cases on a contingency basis, meaning we will not bill you for our services unless we can connect you with compensation for what you've been through.