Burn Injuries
Experienced Charlotte Personal Injury Attorney Helping Accident Victims Who Suffered All Types of Injuries Recover Meaningful Compensation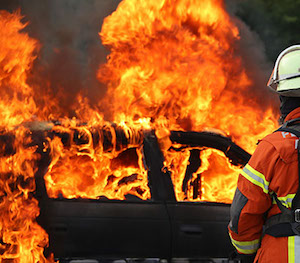 If you have ever suffered a burn injury, you know that few injuries are more painful than a burn. Beyond being painful, however, burn injuries can put you at risk of severe or even life-threatening infections and can require extensive surgery as well as ongoing medical care. If you've recently experienced a burn injury, the Olsinski Law Firm, PLLC, can help. Our dedicated Charlotte personal injury lawyers have decades of experience helping our injured clients obtain the compensation they need to begin the process of moving on with their lives after a serious and life-changing injury.
What Are the Types of Burns?
About 1.1 million people receive medical treatment for burn injuries in the United States every year, with over 50,000 of those incidents requiring hospitalization. The seriousness of a burn depends on the type of burn as well as its severity. There are three main "degrees" of burn injuries, including:
First-Degree Burns: First-degree burns affect the outer layer of the skin, causing pain, redness and sensitivity. These burns are the least severe and can usually be treated at home. A bad sunburn is an example of a first-degree burn.
Second-Degree Burns: Second-degree burns affect the outer and middle layer of skin, causing severe pain and, often, blistering. These burns can affect the sweat glands and hair follicles, causing long-term damage if not properly treated. Some second-degree burns require a skin graft, which is where doctors remove healthy skin and place it over the affected area.
Third-Degree Burns: Third-degree burns can char the skin and destroy tissues. These types of burns make you susceptible to infection because the skin is basically gone, leaving your body defenseless. Healing from a third-degree burn takes a very long time, and you will most likely require skin grafts or other surgical procedures.
More recently, medical experts have begun classifying burns into additional categories, such as fourth-degree, fifth-degree, and sixth-degree burns. Each of these will almost certainly result in lifelong disability and severe scarring.
What Are the Leading Causes of Burn Injuries?
Burn accidents can happen almost anywhere and at any time. In fact, every 19 seconds, a fire department responds to a fire somewhere in the United States. Many burn accident victims are injured as a result of a dangerous or defective product, a vehicle accident or because of an unsafe building. However, determining which parties to name in a burn injury lawsuit may not be clear at first and almost certainly requires a thorough investigation to ensure that all proper parties are included. If you or someone you love has suffered a burn injury, you could be facing long-term treatment, lost wages and uncertainty about your future. It is very important that you contact a personal injury lawyer to protect your rights and determine your legal options.
Contact an Experienced Charlotte Burn Injury Lawyer for Immediate Assistance
If you or a loved one recently suffered serious burn injuries and you believe that another party may have been at fault, reach out to the Olsinski Law Firm, PLLC, to schedule a free consultation. At The Olsinski Law Firm, PLLC, our attorneys proudly represent burn victims in all types of personal injury cases, including those involving car accidents, building fires, dangerous and defective products and more. We offer all prospective clients a free consultation, during which we will provide you with an overview of the recovery process, explain your rights, and go over how we can help you pursue a claim for compensation. To learn more, and to schedule a free consultation with a Charlotte personal injury lawyer, give us a call at 704-405-2580. You can also reach one of our Concord burn injury lawyers at 704-918-4747. We take all personal injury cases on a contingency basis, meaning we will not bill you for our services unless we can connect you with compensation for what you've been through.