Boating While Impaired
Operating a Boat While Under the influence of Alcohol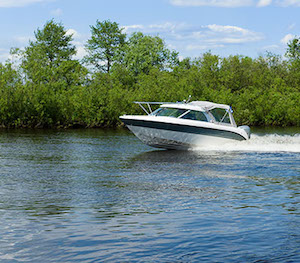 North Carolina offers thousands of miles of open waters for boaters to explore, and with over 300,000 registered vessels in North Carolina, boating has become one of North Carolinians favorite activities. The North Carolina Wildlife Resources Commission has more than 200 free access areas to 80 different bodies of water, which makes boating extremely accessible and convenient for North Carolina residents.
Each year, boating enthusiasts use North Carolina's waterways for fishing, sailing, water skiing and other recreational activities. While the growing popularity in these activities increases so has the Wildlife Resources Commissions enforcement of its laws and regulations on the water. One of the most enforced laws is that of Boating while impaired or BWI. This has been a direct result of dangerous boating accidents and deaths related to drinking on our waterways. What do you do if you have been charged with a BWI? First, understand that while it is a serious crime, it does not carry the same effects as a DWI/DUI. Second, consult a criminal lawyer in your area and sit down and talk about your individual situation.
Alcohol and Boating
Under the NC General Statutes, Boating and Water Safety Act, § 75A-10, no person shall operate any vessel, motorboat, or water skis, or surfboard, or similar device on the waters in North Carolina in a reckless or dangerous manner as to endanger the life or limb of anyone. No person shall operate or manipulate water skis, a non-motorized vessel, or similar device while under the influence of alcohol or drugs, or after having consumed sufficient alcohol where the person has a blood alcohol concentration of .08% or greater. North Carolina law makes it illegal for anyone to operate a boat while under the influence of alcohol or drugs. Boating under the influence would include operating a sailboat, a personal watercraft, operating a boat, water skis, surfing, or any other similar device while under the influence of alcohol or drugs. The unique nature of these laws requires an experienced criminal defense attorney to look over each fact very closely. Unlike a DWI, park rangers or other wildlife officers have more authority to pull over boats and check for safety equipment among other things. However, there are other aspects of a BWI that can favor a criminal defendant. Let us help you understand the many aspects that can be challenged on a BWI. We are experienced criminal lawyers serving, Huntersville, Cornelius, Belmont, Mt. Holly, Kannapolis and all cities in the area that have bodies of water.
If you are found guilty of violating § 75A-10, you will have a misdemeanor (Class 2) conviction on your record. The penalties can be fines, community service and if you have a prior record, maybe even jail time. Do not hesitate to call one of our offices, whether you need a Charlotte or Concord criminal defense lawyer, call today and start understanding your rights. You do not have to go through this process confused, we can help.
Boating while impaired (BWI) charges can be very similar to driving while impaired (DWI); therefore, if you are facing BWI charges, we urge you to contact an attorney from The Olsinski Law Firm, PLLC, experienced DWI and BWI attorneys.