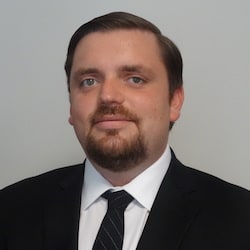 Charles H. Ayres, Esq.
Charles@Jcolaw.com
Download VCard
Phone: 704-918-4747

216 N McDowell St #200
Charlotte, North Carolina 28204
101 Cabarrus Ave E #100
Concord, North Carolina 28025
Mr. Ayres received his Bachelor of Arts in English and History from the University Of Delaware, where prior to graduating he became both a licensed Realtor and Insurance Agent in the State of Delaware. After working for a few years in sales, Mr. Ayres decided to pursue his dream of becoming an attorney. He attended Widener University Commonwealth Law School, where he was a board member of the Phi Alpha Delta co-ed legal fraternity, the Federalist Society, and his class gift committee. While In law school, Mr. Ayres also participated in the IRS' Volunteer Income Tax Assistance Program (VITA), spent a summer studying constitutional issues in Washington D.C., and worked in the school's law library. Prior to joining the Olsinski Law Firm, he ran his own law practice where helped clients successfully navigate issues with Criminal, Civil, Tax, and Business matters.
In his free time, Charles enjoys spending time with family and friends, going to the beach, and following the professional sports teams based out of his birthplace Cleveland, Ohio.
Education
J.D., Widener University Commonwealth Law School
B.A. in English and History, University Of Delaware